"Plus500" - international checkers
"Plus500" is a self-teaching checkersplayer. That is, the more you play against Plus500, the more difficult it becomes to beat.
Screenshot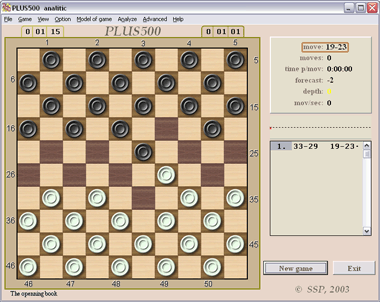 Options :
different play opponent: computer, another player or PLUS500 play herself;
time control;
any starting position on the board;
undo moves;
repeat moves;
self-teaching;
"ponder" time;
game and position analysis (only for professional version!);
offer draw;
games statistic;
save/load position and game;
multilanguage support (English, French, Lithuanian, Portuguese, Russian).
Demo version of PLUS500 have not same options: self-teaching, database import/export, position and game analysis, time control more than 3 sec/move, time control more than 3 min/game.